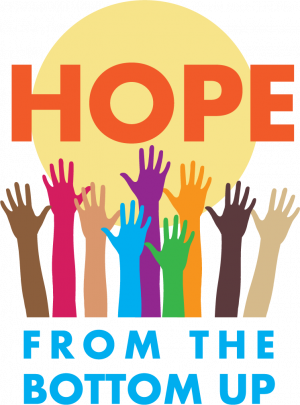 SHARING IDEAS Question for October:
Do you belong to any hope-filled organizations? If so,
What is the name of the organization?

What does it do/What is its Mission?

Why do you do it?
1. I am the Executive Director of Wisconsin Faith Voices for Justice (www.wisconsinfaithvoicesforjustice.org) We are a 501c3 interfaith organization dedicated to providing education, resources, and programs to empower clergy, faith leaders, and people of faith to be vocal advocates for social justice in Wisconsin. We have a wide social justice agenda, including health care reform, worker's rights and economic justice, immigrant rights, racial justice, and interfaith community building. We run the Dignity at Work Coalition, a consortium of faith groups, advocacy organizations, direct service organizations, and labor unions, which work together on issues of equal pay, living wage, sustainable hours, paid sick leave, paid family leave, affordable child care, access to public transportation, affordable housing, gender discrimination, racial discrimination, pension protection, and the right to organize. We also staff the Dane Sanctuary Coalition which organizes congregations and organizations to offer sanctuary to those at imminent risk of deportation and to advocate for rights for undocumented immigrants. We organize faith communities and clergy for mutual support, to learn about each other's faiths, and to work together as an interfaith community to address issues facing our communities. To contact us, email wifaithvoices4justice@gmail.com. Submitted by Rabbi Bonnie Margulis
2. I belong to a hope-filled organization called Strong Prison Wives and Families (SPWF). It is a registered non-profit 501(c)(3) whose mission is: "to enhance the lives of inmate supporters through programs designed to provide empowerment, education and support, qualities we believe are essential to breaking the cycle of recidivism." To read more go to Hope-Filled organizations on this website.
Why do I do it? There are more than 10.35 million prisoners in the world (Source: World Prison Brief). Each has an average of 3 supporters. There are limited resources and minimal support offered to those 30 million supporters, most commonly spouses and family members. To read more go to Hope-Filled organizations on this website.